Laresar now offers 50% OFF Cordless Stick Vacuum Cleaner with Touch Elite3.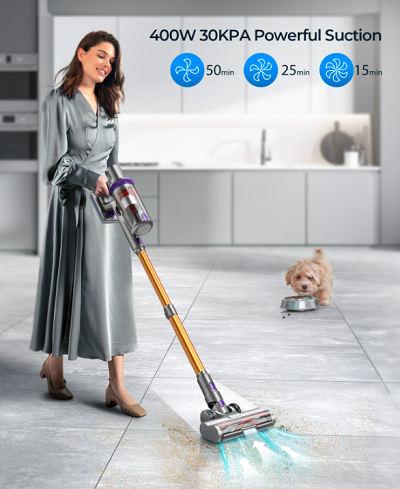 Product Details:
[LED Touchscreen Control] Equipped with a responsive touchscreen design, allowing you to adjust the suction power with a single touch. Built-in sensors detect and display battery level, dust full reminder, brush lock, and blockage warning. With intelligent sensor technology, it detects hidden dust and dirt, automatically adjusts suction power in real-time, and extends runtime by up to 2 times.
[Specially Designed V-shaped Brushroll] The vacuum cleaner features a unique V-shaped brushroll that is suitable for both hard floors and carpets, ensuring thorough surface cleaning. The innovative V-shaped design enhances suction power, preventing hair and fibers from getting tangled on the brush.
[33KPa Strong Suction] The wireless vacuum cleaner boasts a powerful and ultra-quiet 400W digital motor that provides a suction power of 33,000Pa. It offers 3 suction modes to meet various cleaning needs. Additionally, the motor of the vacuum cleaner utilizes noise reduction technology, reducing vacuum noise to below 68dB, minimizing disruption to people and pets.
[Short Charging Time, Long Battery Life] This cordless vacuum cleaner is equipped with a detachable and replaceable high-capacity battery, providing cleaning time of up to 18-50 minutes (depending on suction power) with a quick 3.5-hour full charge, which is 30% faster than traditional vacuum cleaners.
[Large 1.5L Dustbin] The carpet vacuum cleaner features a 50% larger dustbin compared to other vacuums, allowing you to clean larger spaces for an extended period, providing a more convenient and effortless cleaning experience. The bright LED light helps to clean dark corners, and the cordless vacuum comes with a wall-mounted hook for accessory storage and tidy organization.
[Efficient Filtration] The dual-cone filtration system generates a super cyclone and dual-entry filter (HEPA filter + filter sponge), effectively separating dust particles and purifying the exhaust, preventing secondary pollution. It efficiently reduces dust clogging and protects the vacuum motor.